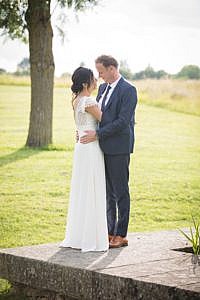 The weather forecast announced rain for Friday and Saturday. We prayed. It did not rain.
Yukki was dressed in a traditional Chinese ceremony and I in a Scottish kilt as we walked on Friday into Magny-le-Hongre's Town Hall.
The next day, we celebrated in the beautifully decorated garden of Yukki's parents, our union before God. The ceremony started off under the sound of 'Amazing Grace'.
The whole Ta family and Paton family were present: from Yukki's grand-mother, 96 years of age to Yaël, my 15 months great niece…
Pastor Pierre Weiner from Mulhouse married us.
We sang in French, English, Khmer, Teochew (a Chinese dialect) and in Mandarin. Our fathers gave a short word of exhortation. Our mothers prayed for us.
We closed this wonderful ceremony by partaking in the Holy Communion.
After taking pictures, we sat down for great Asian cuisine.
Those two days could not have been better. We asked the Lord to overall and He did.
On July 5th, 2020, I drove to Alsace, alone with my two suitcases. Exactly one year later, I arrived but this time, married.
You can see the wedding ceremony by clicking on the link:
https://www.youtube.com/watch?v=HogvtTLUZ7Y