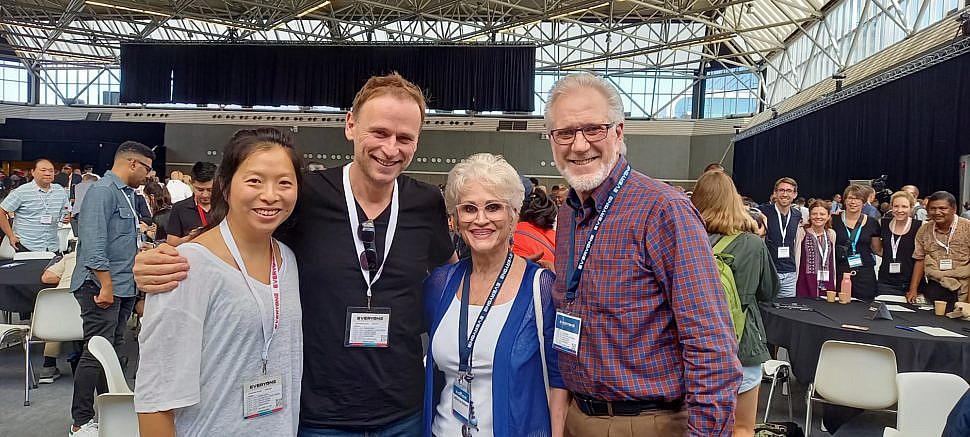 Amsterdam2023 was held in the Netherlands: a gathering to launch the 'decade of evangelisation' to reach every person on Earth with the Gospel by the year 2033.
We could never have imagined meeting so many evangelists in such a short time: in the corridors of the Congress, at the Collaboration & Strategy Sessions or during the workshops.
Some of the highlights included:
Talking to Andrew Palau (Luis Palau's son), whom Timothée had not seen in 29 years.
Meeting Rick Warren from the famous Saddleback Church, LaDonna Osborn (TL Osborn's daughter), Dr David Bruce (Billy Graham's assistant) …
Listening to Daniel Kolenda (Reinhard Bonnke's successor), Bobby Gruenewald (creator of YouVersion), Nicky Gumbel (founder of the Alpha courses) and many others inspiring speakers .
Sharing (in Cantonese for Yukki) with Pastor Dennis Balcombe (considered to be the greatest missionary to China since Hudson Taylor) and Brother Yun ('The Heavenly Man') who spent 12 years in prison in China and whose torturers broke his knees with a hammer. His beaming face almost made us forget all the suffering he went through.
When Nigerian pastor E. A. Adeboye, aged 81, spoke in the Olympic stadium on Saturday evening, we were deeply moved by the humility of this giant of faith. His church in Lagos can accommodate 1 million members in a single service (yes, you read that right!).
Among the other highlights of this Congress: the evening on a barge with the team from The Luis Palau Association, the meal offered by the Global Evangelist Alliance to 900 participants, the improvised mini interview with GOD TV, Gospel outreach on Saturday morning on the streets of Amsterdam and networking with evangelists and missionaries from all over the world. (130 countries were represented!)
We ended our Dutch stay in the heart of Amsterdam, at the YWAM Café (where once General William Booth of the Salvation Army stayed).
Please pray for these evangelists, well-known and lesser known, who work at the 4 corners of the globe to make known the One who deserves to be known.
Timothée & Yukki Paton