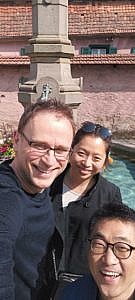 We had never heard of the town of Weislingen where we travelled to, last Saturday.
It took us two hours to get to the Evangelical Church of Weislingen in the North of Alsace, near Strasbourg for the Youth Event PULSE.
Young people from various churches came together around the theme "Shining in my local church".
I gave a short message, and our missionary friend David from Korea shared for a few minutes how God called him to go out to Chad.
Please pray for those young people who were challenged to serve in their church and beyond.
This Sunday, April 3, Yukki and I will be at a church in the nearby town of Pfastatt.
Timothée and Yukki Paton